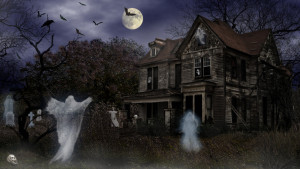 With Halloween just a few days away, we'll be haunted by ghosts and Ghouls. Whilst this annual fright night is based on fiction and designed to entertain the children, it is true that if a rental property is the victim of a difficult history, a letting agent could find that it is more problematic to let.
Houses that have been used by previous tenants as brothels or cannabis factories – or have been home to squatters – can cause problems when trying to find a new tenant. Even properties that have been owned by uncaring or corrupt landlords can develop a long-lasting stigma that will stay with the property long after it has been sold on to a new investor. In the past we've taken on rogue properties, usually from a private landlord that have previously been used for undesirable activities . While it can be difficult to manage a property with this kind of reputation, it is possible to raise its profile within the community.
Often the stigma can be very much in our own minds and will naturally pass away quickly. Even if the story of the property gets in the press, tomorrow there will be more exciting news, which over time, helps locals forget. If a landlord is faced with a property like this, my suggestions would be to change the front door – since there is such a wide variety of designs out there to choose from – or paint it a new colour, develop the front garden to make it look and feel different, then give the house a new name and display it. It would also be helpful to keep the rental price aggressive to ensure lots of potential tenants are interested. It may also be a good idea to give new tenants a good behaviour reward (or something similar) for their first year or so to help encourage a sense of responsibility." But, of course, the best solution is to avoid a property gaining a bad reputation to begin with…
My first advice to landlords is to use a reputable agent, most criminals find properties using the private landlords advertising in local papers, knowing they are unlikely to conduct credit checks and inspections. Agents however, will carry out routine property visits and report back to the landlord as well as undertaking proper references. In this climate a lot of small reference agencies are opening up offering very cheap fees, but how reliable are they? Owner-run businesses, in my opinion, will give a far superior and honest service. My personal belief is that we need to push the government to regulate lettings agencies and have fines in place for negligence or complete incompetence.
So, to sum up, here are my 5 top tips to let 'Rogue' properties…
1) Paint the front door a different colour or change it completely
2) Give the property a new name and invest in a sign
3) Transform the front of the house by adding trellis and plants, or re-designing the front garden
4) Ensure lots of interest by keeping the price competitive
5) Inform locals that a professional lettings agent has taken over the property and allow the agency's good reputation eclipse the property's bad one.
If you would like to speak to us more with regards to this, or any other lettings queries you may have, please feel free to call us on : 02477 674545