Buy to Lets in Nuneaton are quite literally flying off the shelves!…But why?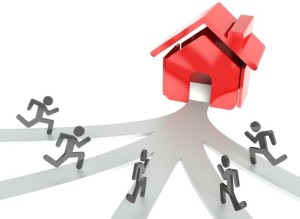 I am constantly being asked by people – in particular our landlords, why its proving so difficult recently to snap up a buy to let property in Nuneaton…
Firstly, let me explain what the majority of buy to let investors in Nuneaton are primarily looking for. A 2-3 bedroom terrace property within the town centre/Attleborough and at a push Stockingford. These tend to range from £78k to £105k depending on what condition they are in and what work needs doing to them.
Last week I went with one of our landlords to look at a property which looked like it had been uninhabited for years…it had in fact only been empty for 3 weeks! The amount of work that needed to be done on the property was colossal! a 3 bedroom terrace quite literally in the town centre of Nuneaton (3 double bedrooms at that) with an asking price of offers over £80k. We discussed roughly how much would need to be spent on this property, from double glazing, central heating, wiring ..all that after the house had quite literally been stripped back to bare brick! between £20-£25k with him doing a lot of the labour himself was the budget we thought was justifiable, so with this, he went in and offered £70k, this was refused and after too-ing and fro-ing with phone calls an offer of £72k was accepted.
Back at the office we worked out that he would easily be able to get rent of £575-£600 for this property once newly renovated, and appealing to the right market it would be let in a flash. The annual yield achievable would then be around 7.5% which was a very attractive figure to him.
The moral of this story being, no matter what condition the property maybe in, with the right vision and ability to budget AND remembering that this will be a buy to let…not a family home for yourself. When properties become available you cant be afraid to invest. If you don't, you can guarantee the person viewing straight after you will!
From a letting agents point of view, I can assure you that your house will be snapped up before work is even completed,  that is how in demand rental property in Nuneaton is.
If you see something which catches your eye, don't hesitate in giving us a call and we'd be more than happy to advise you on it, just please remember investors are coming from al over to snap up property in Nuneaton for both the price, and the achievable yield.
Pop in to see us on Bond Street or give us a call on 02477 674545 and we can discuss this further.