Do you as a Nuneaton Landlord have a game plan?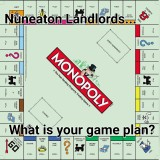 Over the weekend I was having a good clear out in the attic when I spotted my first monopoly board game, it's the original one, unlike these fancy new ones with card readers and so on. I decided to get the family around and we cracked the old box of monopoly open. I actually forgot how much fun it was and secretly how competitive I am. Yes it's just a game however I had a game plan (buy everything I land on!).
Having a game plan is key when investing your money in a Nuneaton property.
All landlords are different in the way they play the property game. Some landlords prefer to accept a modest yield/return on their investment for an increased certainty of finding a quality tenant. Other landlords are interested in high returns, with a greater risk with regards to the quality of the tenant. Before you start playing, it is a good idea to have a game plan. For a low risk investment, you could buy property in the areas of Attleborough, Whitestone or even Weddington which are perceived as being more desirable, where you may be able to achieve an annual yield of around 4-6%. Following my article a few weeks ago, if you don't mind a slightly higher risk of void periods or a more varied quality of tenant, you are likely to be rewarded with a higher annual yield of 6-8%. This level of risk can be typically taken with Victorian terraced houses around Nuneaton, I am happy to discuss and outline specific areas down to the streets. If you are after annual yields of 8%+ and over, you could take more of a risk with houses of multiple occupancy (HMO's) we have plenty of experience with HMO's I manage a few of these myself and they bring in a much higher yield however you have to always remember that tenants moving into HMO's are not tenants for life and you will have to expect void periods. I have strategies to reduce the void periods and to attract potential tenants to your rooms.
As always, if you would like to send any deals you have seen online over to me or you would like to pop in and have a chat, then you can either email me on info@qthomes.co.uk or call on 02477 674545. Our address is unit 1, 17 Bond Street (right near the train station, in front of asda – so plenty of parking available). The kettle is always on and we will even pull out the posh biscuits!
Don't forget to come to Nuneatonpropertyblog.com for regular updates on Buy to Let opportunities in Nuneaton.