Nuneaton Property and the Euro's…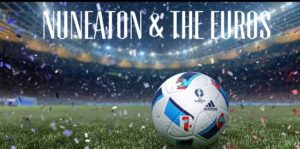 Apologies Nuneaton blog readers… I had the idea for this article a while ago so excuse the extremely bad timing if you are an England fan, considering last Monday's debacle!
With the Referendum on EU membership out of the way, I wanted to talk about something European that doesn't involve party political broadcasts or politician's treating us all like children – the Euro 2016 Football Tournament. Nuneaton is home to all different backgrounds and nationalities so if you're not lucky enough to be in France for the UEFA Euro 2016 football tournament, have no fear! For a bit of fun – although there is a serious side to this – I have taken a look at which European people live in Nuneaton so I know who to soak up the best atmosphere with at the pub!
During my research some interesting numbers appear. Going into the Euro 2016 tournament, France were 3/1 favourites, then Germany 7/2, third Spain 11/2, then England 9/1, Italy 16/1, Poland 50/1, Romania and Wales at 100/1, Ireland at 150/1 and Northern Ireland 500/1.
Of the 125,252 Nuneaton residents, of the 'Home Nations' going into the competition, 113,095 of them are from England, 1213 from Wales and 566 from Ireland, although I do feel sorry for the 2,116 Scots who didn't get into the finals. Now interestingly, looking at the Mainland Europeans residents in the Nuneaton Constituency, it might not surprise you that they make up 1.94% of the population as a whole in the Nuneaton area.
Broken down into the relevant football teams, there are in the Nuneaton Constituency…
49 French
425 Germans
124 Italians
34 Spanish
1,152 Poles
29 Romanians
But what does this have to do with the Nuneaton property market? Quite a lot in fact. Many of these European people were economic migrants, especially those from Eastern Europe. There is no preferential treatment for council housing, so EU migrants have in fact increased demand for privately rented accommodation in Nuneaton.
This has meant, as demand for housing in Nuneaton has remained strong, landlords have continued to buy properties to rent out to keep up with this demand. Therefore, the value of every homeowner's property in Nuneaton has been kept high because of the demand from these landlords buying starter homes to rent out, releasing existing homeowners to go up the property ladder – benefiting everyone in the chain.
However, rents have remained relatively subdued, in Nuneaton rents are only 15.0% higher than they were in 2005, not bad when you consider we have had 38.52% inflation in the UK economy as a whole over the same 11 years.
EU migration has meant existing homeowners, landlords and the economy as a whole in Nuneaton have benefitted from better economic conditions, property prices not slumping whilst rents have been kept in check by wage inflation.
Anyway, back to the football… I'm off to the bookies for a few quid on Wales…
For more thoughts on the Nuneaton property market like this, sign up to the blog or ring me on 02477 674545.