Star buy of the week just outside of Nuneaton…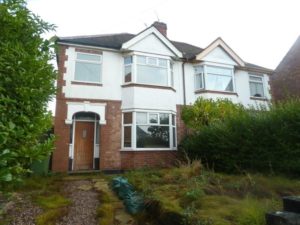 Good Morning Readers. As I'm sure you are fully aware the Nuneaton housing market is a little slow at the minute…what with most people concentrating on their summer holidays and getting the kids ready for school, so putting their house on the market might not be at the forefront of their minds…I think come mid September/October time we will see a lot more properties being put on the market, so watch this space.
This Morning however, I would like to share with you a house I found on Zoopla which is on the Nuneaton Road in Bedworth( the Nuneaton side of Bedworth) which I think could be a great little earner. It Is being marketed by Reeds Rains with an asking price of £99,950.Its a 3 Bedroom semi detached property which judging from the pictures could do with a fresh lick of paint and a bit of tarting up, but other than that would be good to go for renting. They are looking for cash buyers with no upward chain and it states that 'clearance is required 'so there is also the possibility of making a few quid on selling on existing items in the property…bit of a brucey bonus!
In terms of money, if you spend the asking price, then maybe £1500- £2000 freshening it up you could look at renting it out for a minimum of £650 PCM ( we'll calculate the rent being £675) which would give you an annual yield of 7.94%.
A house in this location would appeal to all types of potential tenants ranging from commuters- due to the great location for motorway links, to families who either have children in school in Bedworth or Nuneaton. Regardless I don't think you would have long void periods at all!
If you would like to talk to us about this property or in fact any other you may be considering for buy to let investment purposes, please feel free to give us a call on 02477 674545.