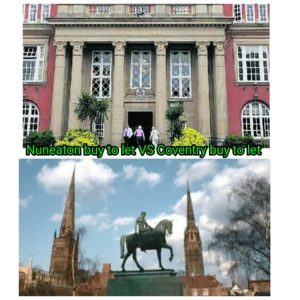 Morning Readers, I trust we are all enjoying the last of the summer weather? I know its definitely had an impact on people being out and about as we've had a fair few visitors this week…one of which being a young gentleman who is looking for his first buy to let investment. He lives in Exhall and came to see us to get our advice as to whether to buy in Coventry or Nuneaton – so I did a bit of research for him which I would also like to share with you.
As we all know, Coventry is a thriving University City with there being a massive influx of students especially at this time of year who are looking for accommodation, and if they leave it to the last minute tend to become desperate and will stay anywhere for any price! However, I'm not in the market for encouraging landlords to take advantage of oversees students as its not a long term solution nor ethical ( in my opinion). However, like I said, there is a huge market with the students, so, done properly and fairly this can be a great income. With this though, there are many a horror story when it comes to renting to students- damaged properties, rents not being paid and then them disappearing, just to name a few! So with anything, there are risks.
If you were to buy a house in Coventry to then rent out, there are plenty of working tenants also looking to rent so renting a house to a family would be no problem at all as the demand it seems is very high! In Coventry the average terrace house over the last year has gone from 133,395 to 148,007 at present( looking on rightmove the majority of 3 bedroom terrace properties are going for 'offers over 150,000'), with an average rental income of 750 PCM this would give you an annual yield of 6%. Similarly in Nuneaton over the last year terrace houses have gone from 111,343 to 120,622 at present. On a 3 bedroom terrace in Nuneaton you could look at getting anywhere up to 650 a month depending on condition/location etc and this would give you an annual yield of 6.47% PCM.
Location wise, I would say both Nuneaton and Coventry are on par with major motorway links for commuting as well as the train stations and great bus routes. People are moving out of the larger cities more and more in order to get the cheaper rent on a nicer property and then take the commuting on the chin. They have done their calculations and the cost of hiring a moving company Greensboro, utility bills, and commuting work out to be cheaper than living in the big city. Nuneaton I know has had an influx recently – just with the tenant enquiries that we have been receiving- of people moving here from Birmingham and even London. Being in the midlands gives us that advantage with properties as we are so central …and property is so reasonable!
So, in all fairness, there really isn't much in it. It boils down to how much you have for your deposit as well as how much you have in the pot to then 'fix up' the property if needs be. Having properties in Nuneaton I know that void periods are minimal and once a house is advertised to let it will take around 2/3 days to get it let subject to contract. I am almost certain this would be a similar story in Coventry as the demand for rentals is so high at the minute.
If you would like to speak to us some more about the Nuneaton property market or you similarly are unsure where to invest, please feel free to pop in and see us on Bond Street, the kettle is always on.