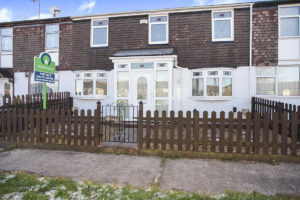 VS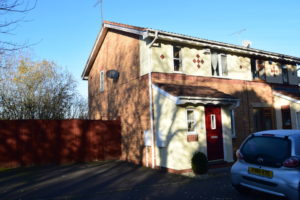 Good Morning all, I hope jack frost hasn't put you off searching for that perfect buy to let investment? I know I sure haven't been! In fact, I have 2 houses to show you today, both of which I'm sure would appeal to people in different aspects but I thought I'd share my opinions and some facts on each property with you…then you can decide which would be the 'better' choice.
First, we have a lovely, modern, 3 bedroom semi detached property located in a quiet cul-de-sac just off the Whittleford Road which I do believe is classed as the Camp Hill area of Nuneaton. It has off road parking and a small conservatory with the possibility to extend. Internally it looks very modern and very much ready to let and would appeal to a young family or working professionals, especially with the added bonus of the off road parking.
This property is on the market with 'One roof property' for £141,950. This house would be able to fetch of rent of around £695 PCM, giving you an annual yield of 5.88%. If this particular property were in another area of Nuneaton such as Atlleborough or Whitestone you would most definitely be looking at getting a better yield due to higher rents that could be charged!
The second property isn't a million miles away from the first, located on Brendon Way, on an estate which many years ago was predominantly council houses. Over the years the majority have been bought and are now privately owned. This one in Particular is a prime example of not judging a book by its cover…. you really NEED to have a look at the internal pictures as its stunning!!Finished to a really high spec, it looks more like a show home, and would most definitely attract a higher end tenant regardless of the area. This property has 3 good sized bedrooms as well as a conservatory and a garage. Size wise It is substantially bigger than the first property also. This type of house would in the same way appeal to working professionals and families looking for their ideal home.
This is on the Market for £115,000 with Your Move-
If you were to pay the asking price for this property which in all fairness I think would be a good call, you would also be able to charge rent of around £695 a month and you would have no shortage of interest! This would in turn give you an annual yield of…wait for it…. 7.25%!! A lovely figure indeed!
I think from reading this article you can guess which property I would favour as a buy to let investment, but I do know different people have different ideas of the type of property they like to own. You must always remember that it is not you who will be living in the house, looking at the bigger picture like yields, the areas where the property is situated, and what you will be able to get out of your investment in years to come are all contributing factors when picking any property!
If you would like to speak to us about either of these properties or any others you many have your eye on, we'd be more than happy to share our thoughts with you. Pop in to our office on Bond Street or give us a call on 02477 674545.qui