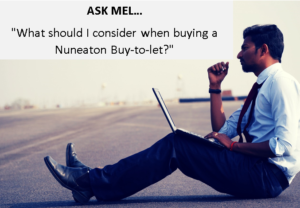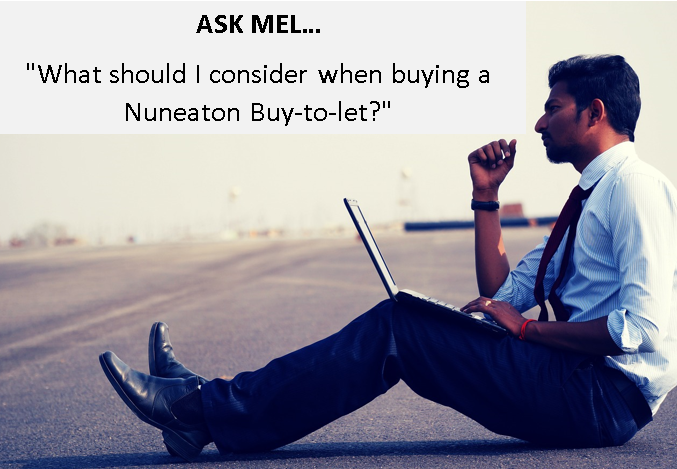 We had a phone call last week from a lovely chap, let's call him Mr Talbott, who has been following the blog for some time and is thinking of investing in a Nuneaton buy-to-let but, he is a "novice" (as he called himself) and came to us seeking some advice and guidance on how to go about investing his money.
His argument was (and rightly so) was that, if he put his money in a savings account, it would just sit there and earn him a minimal amount of interest. His wife is soon finishing her part time job and the rent that comes in from their Nuneaton rental will replace her income. He knows that property is the best bet for investing his hard earned money and it will reward him. He may be a novice but he's certainly thinking on the right lines!
So, he has £150,000 to invest in a single property but doesn't necessarily want to spend it all. He will be a cash buyer and is looking for a 2-3 bedroom house that doesn't need much work doing to it and will be a good renter.
Now some people may be thinking that £150k could be deposits on a few properties and, indeed, it could. However, due to individual circumstances he is choosing to buy one property out right. Individual circumstances play a huge role in your investing decisions so take the time to think about your plans, do some research, pop in and have chat with us (we'll save you a biccy). You may also want to discuss your options with a financial advisor. But, just do what's right for you.
Anyway, enough of the counselling. So …
In preparation for our meeting we gathered a few comparable properties for sale in Nuneaton to show Mr Talbott. We just wanted to show him examples of what's on the market, location, the condition that they are in, what they can rent for and what the annual yield would be. He was pleasantly surprised with what we had presented him with.
Of the 4 or 5 examples that we had printed for Mr Talbott, ranging from £90k to £130k, the 3 bedroom property close to the town centre for £90,000 would give him the best annual yield of over 7% even IF he chose to spend a few thousand modernising the kitchen and bathroom (but not absolutely necessary). We discussed the pros and cons and compared it to the other properties that were for sale in his price range but, this particular property seemed to keep coming out on top.
He then said that he and his wife had discussed downsizing and, that in time, they may move into the rental property.
Well, this changes everything….
When you purchase a buy-to-let you need to be completely detached (if you know what I mean). You can't think "will my sofa fit in here?", "I don't like the colour of this kitchen", "The garden isn't really big enough".
I'd like to think that most people can detach themselves but I also know quite a few that have bought ridiculously expensive buy-to-lets because that's what they would choose or they have spent DOUBLE the budget on renovating because "that's how I would've had the bathroom".
This new information changed everything. Although the £90,000 terraced was a perfect rental it was probably not the best downsizing option from a 4 bedroom detached house in Whitestone. We decided to look at 2-3 bedroom semi-detached properties in Maple park as a comparison but they were either over budget or the annual yield was incredibly low.
It was clear that Mr& Mrs Talbott had some more thinking to do in order to really clarify exactly what they wanted in their Nuneaton property investment.
I'd like to think that we helped open his eyes to the wonderful possibilities of Nuneaton property investment. It's always useful to discuss something like this because you'll find that people help you to think about exactly what is important and why you are doing this.
If you're in a similar situation to Mr Talbott, here's a few things to consider:
• Is it more important to have a higher annual yield or a better return after a few years?
• Is this a short term or long term investment plan?
• What do I want out of my investment; you could split the pot of money down and put deposits on a few properties or you could just buy out right and be mortgage free (it is all dependent on your circumstances)
• Who is the house for? Tenants or you? If both, what should you consider (renovations, budgets etc)?
• Where do you want it? Why?
• What do you want (house, flat, how many bedrooms)? Why?
• Is everything in place for you to purchase?
• Should you seek advice? (Estate/Letting Agents, Accountant, mortgage advisor/ financial advisor)
• How will it affect your Tax?
If you want any advice on anything featured in this article or for anything else Nuneaton Property related, please feel free to give us a call on 02477 674 545 or pop into our office on Bond Street, Nuneaton (under the archway next to Oasis Dental Practice).