In today's economy, there are plenty of tricks you can use to save money, but some landlords are taking that a step further. According to research from LV landlord insurance, there is a surge in 'accidental' landlords across Nuneaton as people are attempting to boost their income by letting properties privately to save on agency fees.
An Overview of Britain's Landlords
Over 7% of adults in Britain rent out a property to help to supplement their income and receive an average of 678 per month. This equates to almost 28bn per annum across the country.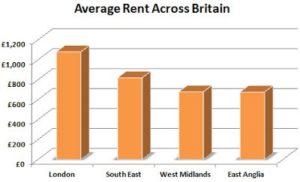 Landlords in London and the South East collect the highest (average) rents at 1,079 and 819 respectively. This is followed by the West Midlands at 678 and then East Anglia at 676.
The driving force behind this trend of 55% of accidental landlords (renting out property they never intended to) varies, from wanting a bigger property (15%), moving for work (10%) or even wanting a garden (6%)! Another 6% of landlords say they ended up renting out a property because they moved in with a partner and didn't want to or couldn't sell their own.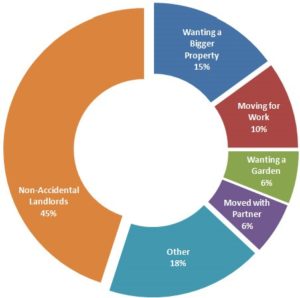 Landlord Responsibilities
Whatever the reason may be, all Nuneaton landlords must comply with current regulations and legislation.
All landlords must ensure that gas equipment (boilers, cookers, etc) are installed and checked annually by a registered Gas Safe engineer. All electrical installations must be safe. Tenant deposits must be held in a deposit protection scheme and some local authorities have mandatory licensing for landlords.
A managing agent will usually take responsibility to ensure that all legislation is complied with, for a fee, as well as check tenants and manage the rent collection, repairs, inspections and deal with the end of a tenancy. Almost half of today's amateur landlords manage their rental property on their own and do not have such protection.
Of those self managing their properties, 27% have not had a gas safety check in the past twelve months and risk being prosecuted and fined up to 20,000.
Non-Compliance
As well as exposing themselves to fines from the local authority, Nuneaton landlords could find themselves heavily out of pocket if one of their tenants decides to make a claim against them. For example, a landlord could be sued by someone who falls and is injured because a pathway has not been maintained.
Landlords can also be liable for damage to adjacent properties, such as an overflowing gutter causing water damage to a neighbouring house. In such circumstances, they could be required to get in touch with water damage restoration minneapolis providers (or firms in their local region) and get it damages fixed. Analysis of the data shows that the number of liability claims being made against property owners has been steadily increasing in recent years. If this were to happen then they may have to talk with them about hiring repair consultants as well as see if they are liable to call in services similar to waterproofing in St Louis MO, for example, if it has the potential to happen again.
Other Impacts
The insurance needs of a rented property are very different from those of an owner-occupied home. Standard home buildings insurance will not usually cover homes that are tenanted. Almost a third (32%) of Nuneaton landlords say their rental property has been damaged at some point and has had to be repaired, which has cost them 1,200 on average. Of those who have had their property damaged, the main cause has been damage by tenants (44%), followed by flooding (17%) and storm damage (8%). 19% of those who rent out houses – equivalent to over 400,000 landlords(UK) – do not have appropriate insurance in place and might not be covered should the worst happen.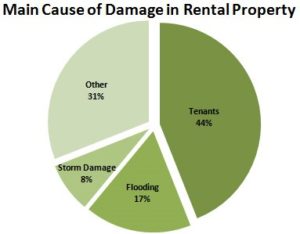 Renting out a property can be a great way to cover your costs if you are unable to sell or want to hold on to a home and make some extra money from it, but it is not without risk. In order to mitigate those risks, we would always advise that you speak to a reputable agent who will help to guide you and show you how to protect yourself against many risks you may not have even considered.
If you are looking for an agent that is well established, professional and communicative, then contact us to find out how we can get the best out of your investment property.
Email me on info@qthomes.co.uk or call on 02477 674545. If you are in the area, feel free to pop into the office – we are based on Bond Gate, right next to the train station. Or feel free to visit our website www.qthomes.co.uk