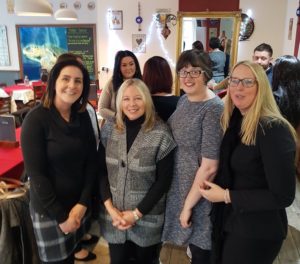 As our avid readers will know, this is not like one of our regular posts on the blog. However, we felt it was important enough to share in the hopes that it might encourage some local Nuneaton business owners to come along, meet us in person and Network!
We're really looking forward to meeting some more fantastic people at the next event.
The press release below was written by Linda Ram from Procopy Creation…
Businesses looking to grow and develop, make new contacts, and benefit from mutual advice and support are invited to a new networking lunch group in Nuneaton. Such professional events can be extremely useful for building networks in the field of business, learning from the experts, and having a fun time together with your colleagues. Thanks to the corporate catering services that put in all their efforts to make these events a success.
The Nuneaton Business Networking Luncheon has been set up to bring businesses together in a relaxed, comfortable and supportive environment where they can make useful new connections. When new businesses are starting out they need as much help as possible, this is where resources such as https://merchantalternatives.com/reviews/payhub-payments/ are used for online merchant services and other related fields that can help them with an efficient and consistent output as they grow within their sector. Meeting fellow business owners in the area can benefit all businesses, after all, they might come across someone providing the very service their company needs. You could be in need of an Accountant for small business, or somebody who can manage your brand marketing, but you're never going to find the help you require unless you reach out for it. This luncheon can serve that purpose for all local businesses.
The new group is being sponsored by Alsters Kelley – one of the largest and most established solicitors' firms in the region – and QT Homes Lettings, a successful independent sales and lettings business based in Nuneaton.
It takes place monthly at The Fuzzy Duck Pub & Kitchen, where attendees can enjoy a hot lunch and refreshments while meeting new business people from across the area.
Melissa Maycock, director of QT Homes Lettings Ltd, who set up the estate agency business with her sister, Mariam Fraser, four years ago, said: "As a relatively new company we appreciate how lonely it can be running your own business and we're really passionate about supporting other local businesses and letting them know that support is out there.
"We've spoken to so many small businesses who have tried the larger networking events and have found them very intense and formal, with a certain amount of pressure, and they haven't wanted to return. We want business owners to enjoy our informal meetings as well as finding it useful and enabling them to grow their business."
Alsters Kelley has offices in Nuneaton, Coventry, Leamington Spa and Southam, offering a wide range of legal services for individual and corporate clients.
The firm's business development manager, Julie McGarrigle, said: "Although Alsters Kelley is very established in the local area and beyond, we understand the need to continue to build relationships not only to help us evolve and grow, but also to support the wider communities that we live and work in. For that reason, business networking is an integral part of what we do.
"As well as making useful new connections for our business, it means we can also share some of our knowledge and expertise with the small businesses who contribute towards a successful and vibrant local economy."
"We wanted this new group to be extremely useful, but also relaxed. Having it at lunchtime means people can make some new contacts and get helpful tips for their business while enjoying a hot meal during an extended lunch."
"The first event went really well with some great positive feedback so we're looking forward to welcoming more businesses to the second one this April."
Moreover, at an event like this, information and strategies about how to attract customers to a new business can be exchanged. New business owners might be capable of running the business but might lack skills like marketing and so on. If the owner can attract customers with a catchy signboard outside the shop, a board designed by a company like National Signs, for example, it can sometimes be that one piece of information that is strong enough to lure many customers.
The inaugural event took place in March and was attended by more than a dozen people, despite wintry weather, who went away with some fantastic new contacts and ideas to implement in their businesses.
The Nuneaton Business Networking Luncheon includes tea/coffee and networking, followed by brief introductions and the sharing of positive news and information relevant to the town's businesses.
Attendees then enjoy a hot lunch, followed by more networking opportunities and a useful activity designed to help businesses grow and develop.
Delegates at the first meeting were able to share advice and ideas on particular areas of their business that they would like to improve.
Melissa added: "We're very much focussed on encouragement, growth, support and positivity and we would definitely recommend that businesses come along and see what we're about. I'm certain that everyone will go away feeling positive about something, whether it's an idea to implement in their business, or a fantastic new contact they would not have met otherwise."
Businesses of all types and services are welcome to attend whenever they are able to. The next meeting takes place on Thursday, April 19, from 12.30pm. Tickets need to be booked in advance. More information and booking details are available via the Nuneaton Business Networking Luncheon Facebook page at https://www.facebook.com/NuneatonLuncheon/