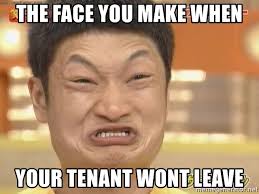 We were recently instructed to sell a property but the Vendor had a bit of a dilemma. She had a tenant in situ who was not happy about the property being sold. She told the vendor that she would not move until she was evicted by the bailiffs, a process we all know can take quite a long time as well as being costly.
After talking in more depth with the Vendor we had to inform her that the notice she had already served on her tenant was void because she had not done any of the things she was required to do (by law) at the start of the tenancy. This did not go down well but she was grateful to find out now rather than at court when the judge would roll his/her eyes and just dismiss it.
Now, it's important to remember that although this Vendor was clearly distressed and worried about the whole situation, the tenant would be feeling incredibly vulnerable and angry that she was, in effect, losing her home.
At this juncture in a tenant/landlord relationship, it's so easy for things to get nasty but no one likes to be victim to an aggressive text or phone call. The landlord often starts threatening the tenant and in return the tenant digs their heels in and insists on staying for as long as possible, just to spite the landlord (or, in most cases, it's because they've been instructed by the housing department to "stay put" until the bailiffs come knocking…*SIGH*).
So this was the situation that our Vendor found herself in.
She asked for our advice and I told her that although this is a very stressful time for her, she needs to remain as calm and level headed as possible, which is easier said than done. I've been in this situation myself many years ago and, I'm usually a very calm and loving person but I felt so much anger to the point that I thought I was going to take Hulk form and start hulk smashing everything! (I'm glad to say, I did not turn green or start smashing things!)
I suggested to the Vendor that she avoid contact with the tenant for the next day or so and just consider her options, a couple of which were:
1. Instruct a professional company / solicitor to serve the relevant notices (after having resolved the gas cert and documentation issues)
2. Ask the tenant nicely and calmly to sit and have a chat to go through their options, which were:
a. Service Notice, Court Hearing, public humiliation by Bailiff eviction (no one wants this)
b. The landlord could offer to pay a deposit on a new property for the tenant. After all, paying £600-£800 is better than forking out court & bailiff fees while the tenant sits in the house refusing to pay the rent!
The Vendor felt quite frustrated that one of the options was to GIVE the tenant money after she'd caused such a fuss. Why should she be out of pocket? But, after talking her through the whole dragged out process of eviction, she decided this would be best and save her time, stress and money in the long run.
After a day or so of calming down, the Vendor managed to meet with her tenant. I'm happy to say that the tenant accepted the waving white flag and agreed to accept the deposit money for a new property and even thanked the landlord for helping her.
I'm also happy to report that the property sold during the first viewing…for £10,000 more than the asking price! So, the Vendor was not out of pocket after all and she's thankful that she made the right decision to allow the house sale to go through.
If you are experiencing difficulties with your buy to let property, please feel free to give us a call and we'll be more than happy to offer some advice and help you going forward. Either pop into our office on Bond Street, Nuneaton. Call us on 02477 674545 or email info@qthomes.co.uk