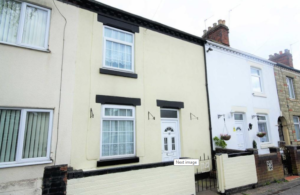 During my daily browse on Rightmove I came across a property in Stockingford, Nuneaton which caught my eye. It is in need of some love and attention but it has fantastic potential.
It's currently on the Market with Hawkins at offers over £105,000. The price does reflect the work required, which is pretty much a new kitchen, new bathroom as a minimum.
It currently has a good size lounge and a kitchen diner on the ground floor with two bedrooms and a sizeable bathroom on the first floor.
The layout is attractive and would be appealing to prospective tenants. With a total revamp of the kitchen and bathroom, this house could be a cracking rental property bringing in around £625/month rent.
If you were to purchase it for £105,000 and spend £10k (max) bringing it up to scratch, you'd be looking at a very attractive annual yield of 6.5%
Click the link below to see more property information…
Two Bedroom Terraced on Church Road, Nuneaton
*Pictures featured were taken by Hawkins*