Nuneaton Landlords- Here's some FREE ADVICE on all things EPC related…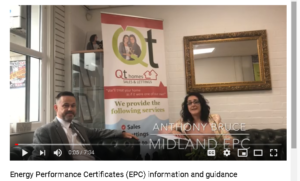 I interviewed Anthony Bruce from Midland EPC to find out exactly what EPC's are, what the new regulations mean and WHO is responsible to pay for any proposed improvements.
You'll find out where to go to look for any available grants / funding to help you improve the EPC rating of your property and much more!!
To see the full video, CLICK HERE .
For more information about EPC's or any information relating to property Letting, please feel free to give us a call 02477 674545 or why not pop in an see us at Unit 4, The Courtyard, 17 Bond Street, Nuneaton CV11 4BX