Nuneaton Rental Properties- supply & demand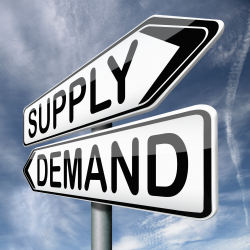 With things picking up again after lockdown and being inundated with tenants looking for rental property in Nuneaton, it got me thinking about supply and demand.
We've never had an issue finding good tenants for properties because we've always been flooded with enquiries (usually within a few minutes of listing the property online). For example, a property we had recently was a 3 bedroom terraced in Stockingford, Nuneaton CV10. We had over 70 enquiries for it within a couple of days!
At this point I thought it best to pause the marketing and allow time to pre-qualify all of the potential applicants. However, if I had not done that, the enquiries probably would've been well into the 100's after a few more days of advertising.
So, I had a look to see what NEW property rentals have been listed with "on the market" since 1st July 2020 to date (including all agents in Nuneaton) . In the CV10 area there have been 47 properties come available and in the CV11 area only 32 properties. These are your average 2-3 bedroom terraced properties.
Bearing in mind the amount of people who enquired about one property, this amount of NEW properties would not have even covered all of the applicants we had! What was even more surprising was to see that some properties were still available after being on the market for more than a month!
To sum up, the demand is always there for rental properties in Nuneaton, regardless of area, property type, size etc. When I list a property to rent, I often think of it like expecting a stampede of buffalo like in the lion king. Thankfully it's not as dangerous!
To everyone out there- stay safe! Keep investing in Nuneaton and we'll find you buffallo…I mean tenants in no time 🙂
Melissa